Kamen Rider Drive Full Series
Kamen Rider Drive (仮面ライダードライブ Kamen Raidā Doraibu) is a Japanese tokusatsu drama in Toei Company's Kamen Rider Series. It is the sixteenth series in the Heisei period run and the twenty-fifth series overall. The series started on October 5, 2014, joining Ressha Sentai ToQgerIcon-crosswiki in the Super Hero Time line-up after the finale of Kamen Rider Gaim. Starting on February 22, 2015, Kamen Rider Drive was joined by Shuriken Sentai NinningerIcon-crosswiki in the Super Hero Time line-up. After the finale of Kamen Rider Drive, Kamen Rider Ghost joined Ninninger in the Super Hero Time line-up. Its series tagline is "Start Your Engine!"
The average ratings of the series was 5.34%.[1]
Story
Shinnosuke Tomari is a former elite police officer in the Metropolitan Police who after an event that traumatized one of his colleagues has been "demoted" into the Special Investigations Division, a group that looks into the stranger happenings in the city, particularly the "Heavy Acceleration" events that leave people unable to move that the public have termed the "Slowdown." When he is chosen by the Drive Driver and Tridoron, Shinnosuke transforms into Kamen Rider Drive and is tasked with battling the Roidmudes who wish to take over the world by eliminating humanity.
Main Poster: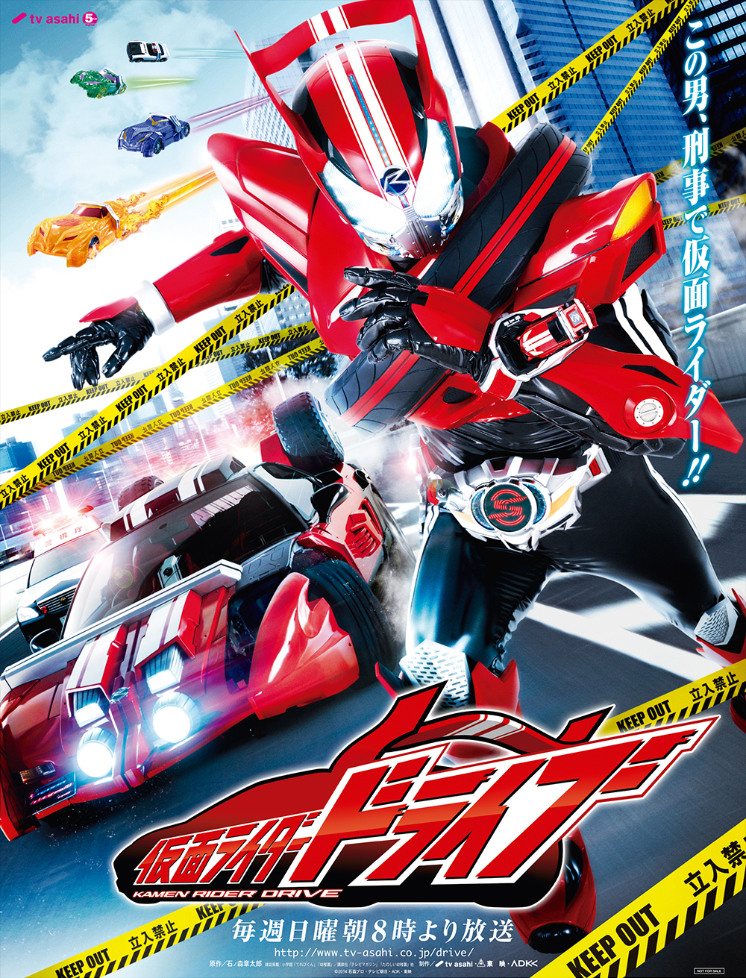 Watch Online Kamen Rider Drive Full Series - English Subbed by TVNihon - TokuFun
Normal Server
| Label | Download Link | Youtube Alt (Watch Directly) |
| --- | --- | --- |
Backup Server
| Label | Download Link | Youtube Alt (Watch Directly) |
| --- | --- | --- |
Special Movies
Changelog
22/8/2019 - First version
10/4/2020 - Added Youtube-Alt Amazon + new Google Drive links
27/4/2020 - Added Youtube-Alt Google
RIDER TIME! Report broken url below. Thanks