First of all
Ryusoulger has come to an end - fully 48 episodes. And the new super sentai is born, its name is Mashin Sentai Kiramager. All the episodes & movies will be uploaded/shared here on TokuFun!!
Thank you for enjoying your time on TokuFun and having a good time with Ryusoulger! This time, together we'll watch Kiramager Series >o<.
Mashin Sentai Kiramager Full Series and Movies English Sub
Mashin Sentai Kiramager (魔進戦隊キラメイジャー)[1][2] is the 44th season of Super Sentai. The shows theme is vehicles and gemstones. The series will air on the Sunday morning Super Hero Time kids block alongside Kamen Rider Zero-One after its predecessor Kishiryu Sentai Ryusoulger concludes its run on March 1, 2020.
Production
"From past to present all over the world, fun stories always have "gems" appear in it. An adventure involving ancient artifacts, treasure chests in pirate ships, infinite stones all over space… These "shiny and sparkling things" that have crystallized by heat and pressure deep underground have always fascinated us."
In this title, we are attempting as part of the 44th Super Sentai show to utilize these gems for the first time ever as they change into children's favorite "playthings". Gems x Vehicles = Mashins. Our heroes will engage in an adrenaline-fueled adventure as they share a bond with these Mashins. Why is it that gems shine? It's because light reflects off of it in intricate ways. Super Sentai incomparably has many faces. Human drama, life-sized action, special effects involving machines and robots, a world view with a sense of wonder, and a cast of fresh faces. By taking in various rays of light with these various aspects a Sentai team shines as a Sentai team. And from it all, Mashin Sentai Kiramager aims to be the most "sparkling Super Sentai ever". Please look forward to it!" - Toei Producer Hideaki Tsukada explains how the theme of Kiramager came to be.
Plot
A princess from a land of jewelry and KiramaStones comes to Earth in search of people with a "shining spirit" called Kiramental, a source of outstanding charm and talent. She seeks them out to make them into warriors to defend Earth from an evil army. Five are chosen by the KiramaStones, which transform into sentient vehicle companions known as Mashins. Using these powers, they fight the evil army bent on robbing people of their hope and radiance.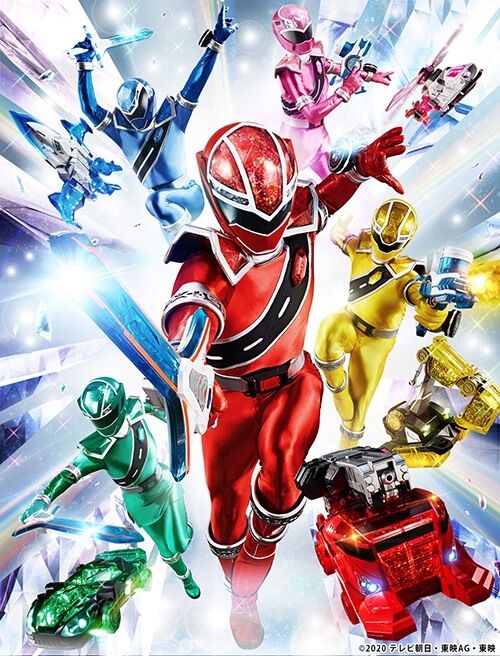 Watch Online Mashin Sentai Kiramager Full Series Episodes English Sub by TVNihon/Over-Time
| Label | Download Link | Youtube Alt (Watch Directly) |
| --- | --- | --- |
Backup (Only Youtube-Alt is working for this backup)
| Label | Download Link | Youtube Alt (Watch Directly) |
| --- | --- | --- |
Watch Online Mashin Sentai Kiramager Special Movies English Sub
Mashin Sentai Kiramager OST/Music
Available on Spotify:
Quick notes
We always upload the "Over-Time" version first (quickiest sub in the west) - mostly arrive around Monday/Tuesday weekly.
Later on Friday/Saturday, we will re-upload the Server 1 to TVNihon Sub (fancy sub)
Enjoy!!