Kamen Rider Kuuga Full Series 49 Episodes and Movies English Sub - TokuFun
Kamen Rider Kuuga (仮面ライダークウガ Kamen Raidā Kūga, Masked Rider Kuuga) is a Japanese tokusatsu television series. It is the tenth installment of the popular Kamen Rider Series of tokusatsu shows and the first of the series to air entirely in the Heisei period. It was a joint collaboration between Ishimori Productions and Toei, and was shown on TV Asahi from January 30, 2000 to January 21, 2001. Kamen Rider Kuuga is the first Kamen Rider Series to be broadcast in widescreen format (albeit presented in a letterbox format). The catchphrase for the series is "A New Hero, A New Legend".
The average ratings of the series was 9.7%.[1]
Story
Long ago, the Grongi Tribe terrorized the Linto (リント Rinto) until a warrior named Kuuga appeared and defeated the Grongi, sealing their leader within a cave. In the present day, a multi-talented man named Yusuke Godai finds himself linked to the mysterious stoned belt that was found within the excavated cave as the Gurongi are resurrected and resume their murderous game on the descendants of the Linto, humanity itself.
It is up to Yusuke, along with the assembled Science Police, to use the various powers of Kuuga to stop and defeat the Grongi Tribesmen from their continuous killing and ensure the happiness of others. However, as the endgame draws near, Yusuke learns that there is a horrible revelation behind Kuuga and the Grongis' leader.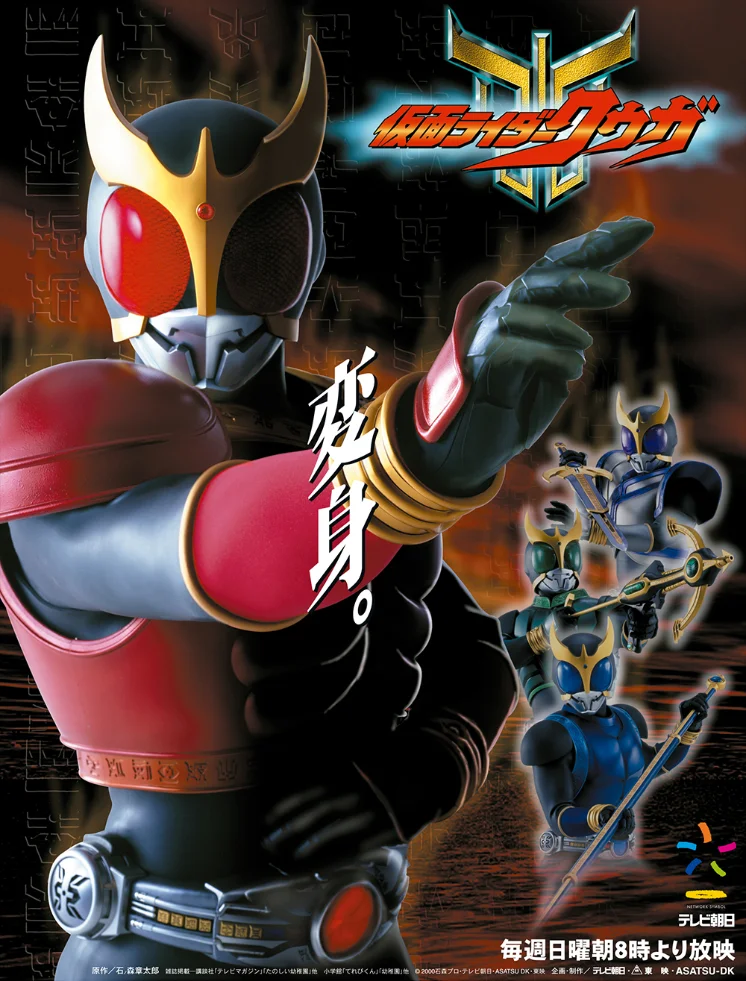 Watch Online Kamen Rider Kuuga Full Series 49 Episodes by MCS FanSub - TokuFun
We would love to use TVNihon Fansub but currently they only got 24 episodes. So we delayed the TVNihon version until further episodes being released.
| Label | Download Link | Youtube Alt (Watch Directly) |
| --- | --- | --- |
Enjoy!!